Contents
Introduction

About VueMinder Pro or Ultimate

Adding data from other sources
Working with menus and toolbars
Viewing calendar data
Viewing reminders
Configuring reminders
Working with calendar data

Calendar properties
Property editors
Colors, images, and appearances
Descriptions and details

Working with contact data
Linking items and attaching files
Searching for data
Printing
Transferring and backing up data
Exporting and publishing data
Get VueMinder
Free Download
Buy Now
How to get here...
The Configuration Wizard will automatically run the first time VueMinder is installed.
Click the "Configuration Wizard" command on the File menu.
Overview
VueMinder can send reminders via text messages and voice phone calls. In order to do this, you'll need to enter your text messaging settings. If you select the option to send reminders using your mobile carrier, then you'll also need to have entered email settings on the previous step of the wizard. If you don't intend to use text message reminders, you can skip this step by clicking the Next button. You can also enter your text message settings using the SMS/Voice command from the Options menu.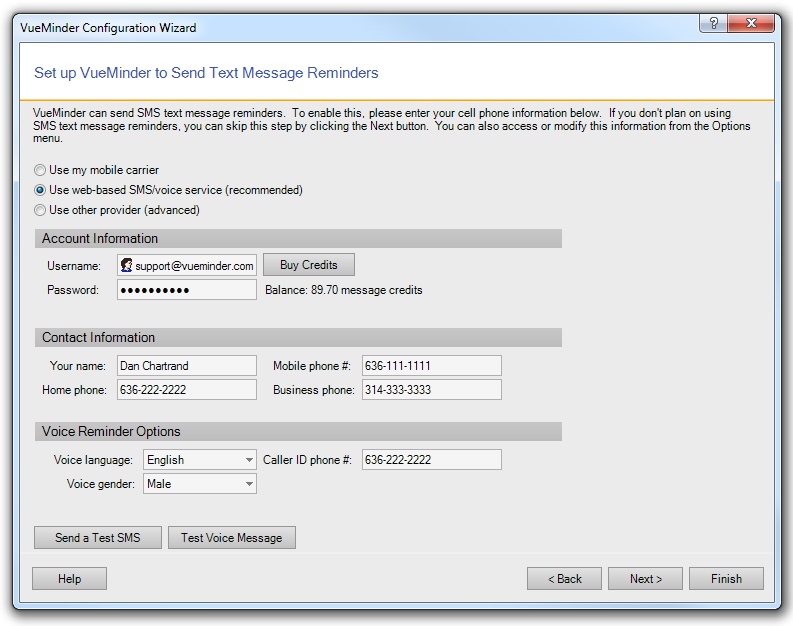 See the SMS/Voice Settings documentation for detailed information about the various input fields. After you've verified your text messaging settings, click Next to continue to the next step of the Configuration Wizard.
Contact Us
If you have questions that aren't answered here, you can reach our support team at support@vueminder.com. If you're using VueMinder Ultimate you'll have our top priority. Otherwise, we'll reply as soon as all VueMinder Ultimate requests have been completed (and always within 1 business day).