How to get here...
The Configuration Wizard will automatically run the first time VueMinder is installed.
Click the "Configuration Wizard" command on the File menu.
The Proxy step will only appear if there's a connection problem.
Overview
Many of VueMinder's features require internet connectivity. If you're behind a proxy server, one of the first steps in setting up VueMinder is to specify the proxy settings required to access the internet. These settings can also be entered in the Proxy Settings options window. This part of the Configuration Wizard will only appear if VueMinder detects a problem connecting to the internet, which could mean you're either using a proxy server or you have a firewall that is blocking VueMinder. If you're not using a proxy server (or aren't sure), simply leave the checkbox unchecked and click the Next button to advance to the next step.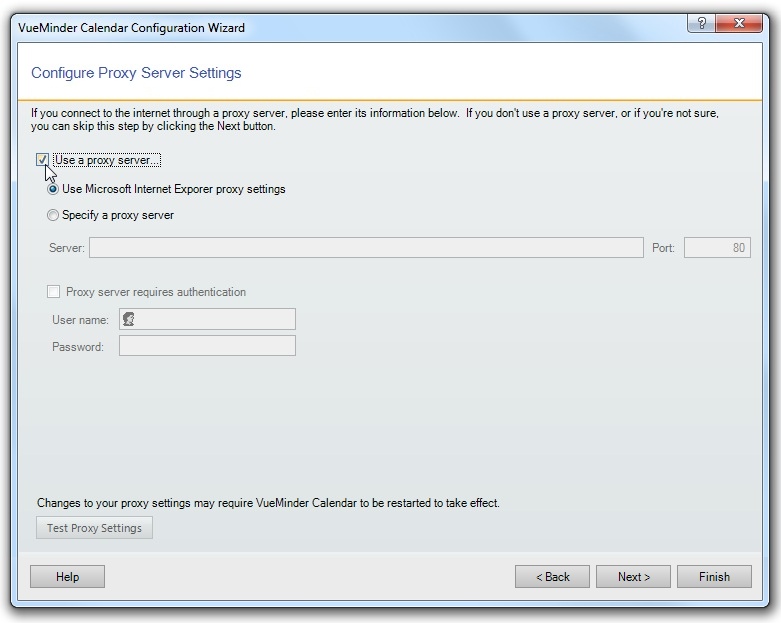 Use Proxy Server
If you connect to the internet through a proxy server, your proxy settings can be entered after checking the "Use a proxy server" box. If you don't connect through a proxy, you should leave this box unchecked to ensure VueMinder can correctly connect. VueMinder connects to the internet when checking for software updates, publishing or subscribing to online calendars, syncing with Google Calendar, and sending email or SMS reminders.
Specify a Proxy Server
If you have configured Microsoft Internet Explorer to access the internet through a proxy server, you can simply have VueMinder reuse those settings. Alternatively, you can choose to manually specify a proxy server and port by clicking the corresponding option.
Proxy Server Authentication
If your proxy server requires authentication to connect, check the "Proxy server requires authentication" box. This will enable you to enter the user name and password that are required to connect. The password is saved locally using 256-bit encryption.
After you've entered your proxy settings (if required), click the Next button to proceed to the next step of the Configuration Wizard.