Overview
VueMinder provides the ability to schedule voice reminders to any phone, anywhere in the world, including both land lines and cell phones. Businesses can benefit from this feature by scheduling phone calls to clients, reminding them of upcoming appointments. Instead of paying staff to place these calls or relying on expensive and complex systems, you can use VueMinder to easily automate the process. This feature will reduce your client no-shows, which will immediately translate into improved revenue.
To enable a voice reminder by phone, check the "Call phone with voice reminder" box in the list of available actions on the Event Editor or Task Editor window.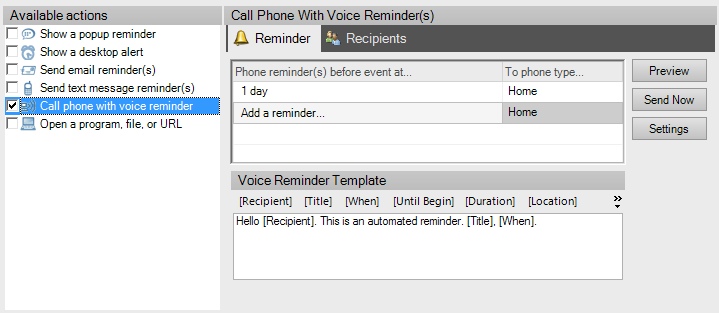 Reminder
Settings Button
Before voice reminders can be sent, you'll need to request an account. There are no signup fees and you'll receive 5 free message credits so you can test out the system. There are a number of service plans to choose from, including a pay-as-you-go option that has no monthly fee. Depending on the service plan you select, the cost per voice reminder will vary between $0.06 and $0.10 USD (in the United States and Canada - international rates may vary, prices are subject to change). After signing up for an account, simply enter your account login name and password in the SMS/Voice Settings window, which can be accessed via the Options menu or by clicking the "Settings" button.
Phone Reminder(s) Before Event/Task At...
One or more reminders can be scheduled for the same event or task. To schedule a reminder, select a time from the drop-down list or type in a value. When typing in a value, the number must come first, followed by a space and then the unit of time (minutes, hours, days, weeks, or months). Example: "5.5 hours". Valid times can be anywhere between 0 minutes and 1 year. You can also specify negative times to make the voice reminder get processed after the event or task starts. To remove a scheduled reminder, click the red X button.
After a scheduled reminder is transmitted, the time entry will still be listed, but will be gray and crossed out to indicate it has already been processed.
Note, if the computer is completely powered off when the reminder is scheduled for transmission, it won't be sent until the next time the computer starts. However, if the computer is in sleep or hibernate mode, VueMinder can temporarily wake the computer to send the reminder and then return the computer to sleep mode when finished. This behavior can be modified in the
Reminder Options
.
To Phone Type...
The preferred phone type can be selected from a drop-down list. For example, one scheduled reminder could be sent to home phone numbers and another to mobile phone numbers.
Voice Reminder Template
Voice reminders are generated using text-to-speech technology. There's no need to pre-record a reminder message. The default reminder for the example appointment in the screenshot above, if called to a recipient named John, would be:
"Hello John. This is an automated reminder. Root Canal tomorrow at 8:00 AM."
The reminder will repeat 3 times or until the recipient hangs up. You can adjust the reminder template using a number of dynamic fields (wrapped in square brackets), and personalize it with your business name or anything else you'd like included in the message. For example, the template could be changed as shown below and saved as the default for any new appointments.
The voice reminder for this template would say:
"Hello John. This is a reminder of your Root Canal appointment. We look forward to seeing you tomorrow at 8:00 AM. If you'd like to reschedule, please call us at 1-777-123-4567 at your earliest convenience. Thank you for choosing Dr. Dan's Dental Care and have a wonderful day!".
Preview and Send Now
The Preview button can be used to ensure the template is correctly entered and will be narrated as expected. You can also send the voice message immediately, to all recipients specified on the Recipients tab, by clicking the Send Now button. A status message will be displayed at the bottom of the screen showing the transmission status and whether or not it was successful. The reminder will also be sent automatically at the specified time before the event or task, regardless of whether it was sent manually.
Send to...
Voice reminders can be sent to yourself, additional recipients, distribution lists, or contact groups. Also, any combination of these can be specified. For example, you can select individual recipients in addition to one or more distribution lists.
Send to Myself
Check this box to send the voice reminder to yourself. This requires your phone number to be specified on the Text Messaging Settings window.
Send to Additional Recipients
You can specify individual contacts to receive the reminder. When clicking this field, a drop-down list of contacts will be shown. Use the checkboxes to select the desired contacts. If you need to add a new contact, click the "..." button to access the Contact Editor, where a new contact can be defined. Contacts must have a phone number specified in order to receive the reminder. The reminder will be sent to the associated home, business, or mobile phone number, depending on the type of phone specified on the Reminder tab for each scheduled reminder.
Distribution Lists
The reminder can be sent to one or more distribution lists. To select the desired distribution list(s), click the drop-down button and use the checkboxes. If you haven't defined any distribution lists, or if you'd like to view/modify existing distribution lists, click the "..." button. A menu will appear enabling creation, modification, or deletion of distribution lists.

Contact Groups
The Contact Editor contains a "Group/category" field. If this field is used, you'll see a drop-down list of the currently used contact groups. Use the checkboxes to select the desired contact groups. This can be used as an alternative to distribution lists. Any contacts associated with the selected group(s) will receive the reminder, provided their phone number has been specified.